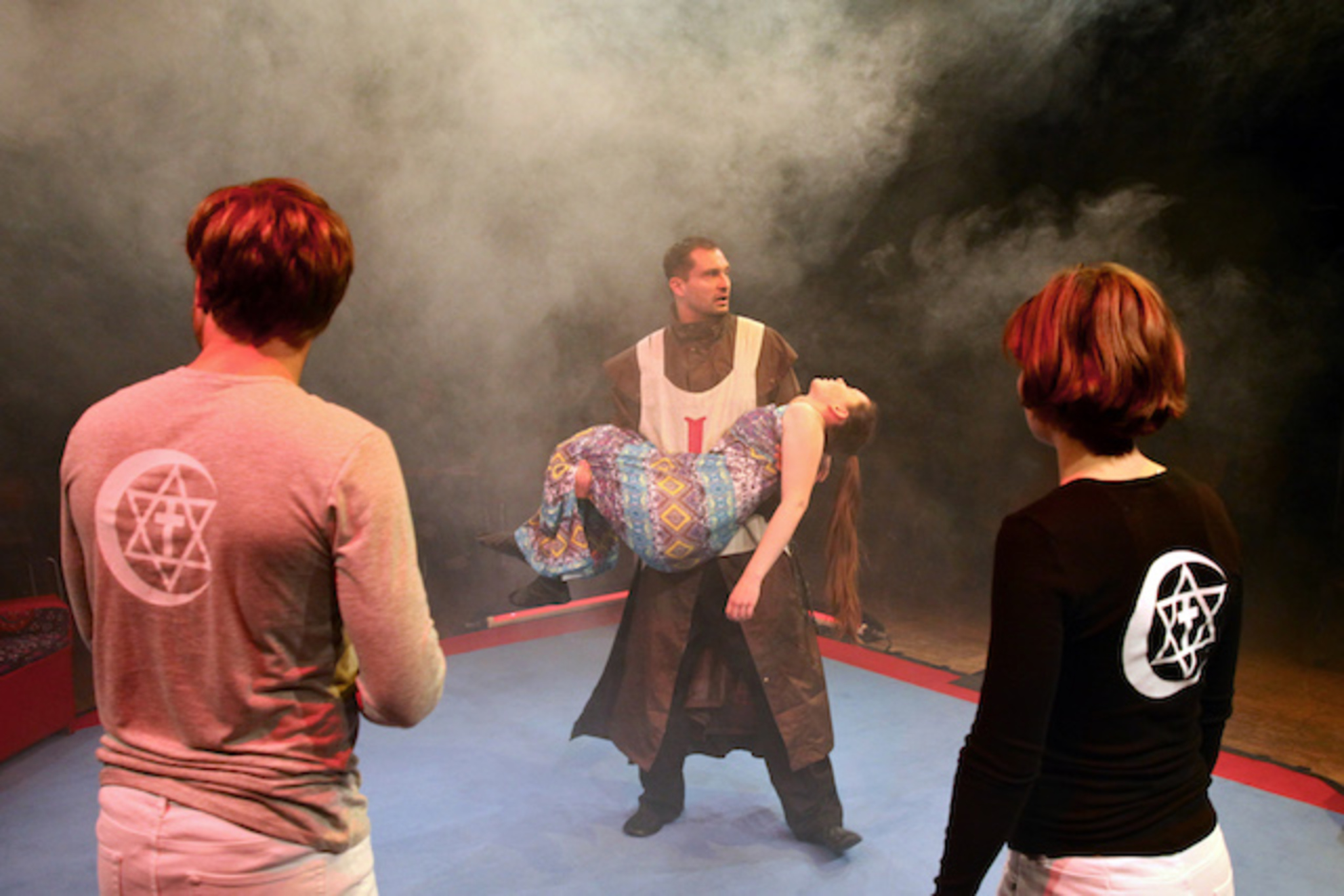 01 / 04
Christian crusaders are beheading Muslims in the name of the church. Muslims stand up for themselves and hit back. Jews are caught in the middle and fear for their lives, are slain or burned alive. The three main monotheistic world religions are fighting over whose God is the one and only God. Is it all about love? Or about violence? … This is life in Jerusalem in 1187.
A Christian Knights Templar rescues a girl from a burning house in Jerusalem. The girl is Recha, the beautiful daughter of the Jewish merchant Nathan. The Templar and Recha fall in love and soon become entangled in a complicated family drama and seemingly irreconcilable religious conflicts.
Luckily, Nathan is not only rich but also wise, the sultan is not as opinionated as he first seemed and Kurt, the Templar, is not just a fist-wielding thug…
Günter Jankowiak has given Lessing's classic drama a new, contemporary guise.
Informationen
Ensemble
Premiere: 09/2012
Text and Direction: Günter Jankowiak / based loosely on G. E. Lessings "Nathan der Weise"
Stage and Costume: Daniele Drobny
Music: Johannes Birlinger
Theatre pedagogy: Ann-Marleen Stöckert / Cornelia Baumgart
Actors:
Beate Fischer
Josephine Lange
Andreas Schwankl
Oliver Moritz
Liane Steinnagel
Justus Verdenhalven
Program + Tickets
Date/Time
Play
Rated
Venue
Tickets
Wednesday 29.01. → 10:00 h
14+
Die Weiße Rose

Wednesday 29.01. → 10:00 h
14+, Die Weiße Rose

Ausverkauft
Tuesday 25.02. → 11:00 h
14+
Die Weiße Rose

Tuesday 25.02. → 11:00 h
14+, Die Weiße Rose

→
Tuesday 25.02. → 18:00 h
14+
Die Weiße Rose

Tuesday 25.02. → 18:00 h
14+, Die Weiße Rose

→
Wednesday 26.02. → 11:00 h
14+
Die Weiße Rose

Wednesday 26.02. → 11:00 h
14+, Die Weiße Rose

→
Thursday 27.02. → 11:00 h
14+
Die Weiße Rose

Thursday 27.02. → 11:00 h
14+, Die Weiße Rose

→
Friday 28.02. → 10:00 h
14+
Die Weiße Rose

Friday 28.02. → 10:00 h
14+, Die Weiße Rose

→
Media Response
Media Response
"You can't get any more topical. … Günter Jankowiak has reworked this classic play for a young audience. … Educational and highly entertaining theatre."
Zitty

"Playwright and director Günter Jankowiak has refrained from dragging Lessing's dramatic poem into present-day school playgrounds, and instead has left the story in its 12th century setting in Jerusalem. … Lessing's tale about the power of free thought has lost none of its intensity and holds the audience in its grip without any need for embellishment or artistic effort. … Jankowiak and his ensemble have found a clear and straightforward contemporary language for Lessing's words."
Der Tagesspiegel
Booking Enquiry
Or use our online booking form: