Klasse Tour
Mask and Beatbox Theatre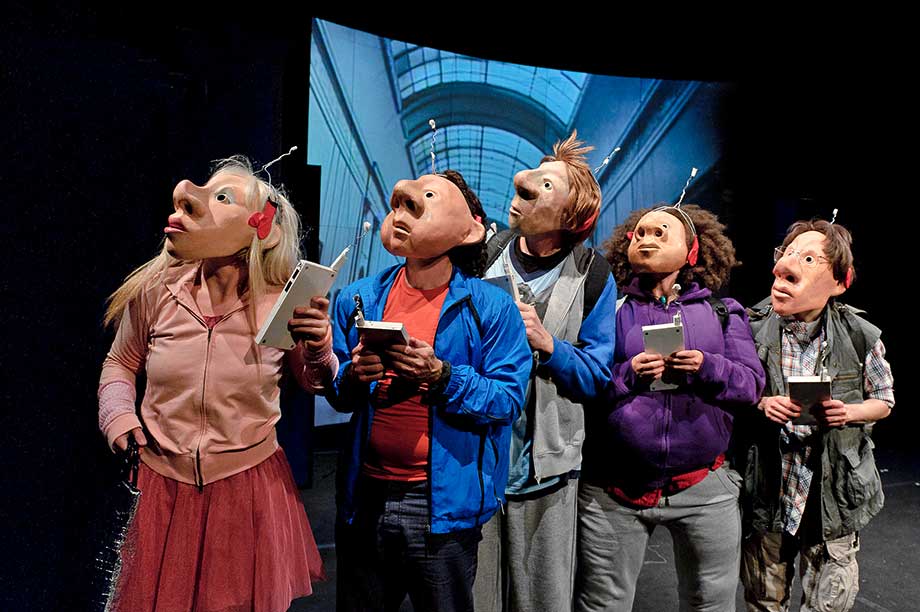 01 / 04
School's out, Join the fun! They're off on a school trip, the masked characters from KLASSE KLASSE. In this turbulent collage of comedy, fantasy and group dynamics only one thing is certain: nothing is as it seems. Hidden behind 14 masks, personalities are shifting: daydreamers turn into dream dancers, wallflowers turn troublemakers and fashion queens become bad girls.
The relentless performance of the beatbox artist and the moving pictures on stage take the audience on a powerful journey.
Featuring: Mando, multiple German beatbox champion. Perfect for an international audience: (almost) without spoken words.
Informationen
Ensemble
Premiere: 10/2011
By: Michael Vogel und Ensemble
Coproduction: with Theater Duisburg
Direction and Masks: Michael Vogel
Co-Direction: Stefan Lochau
Stage: Michael Ottopal
Costume: Pascal Mühl
Music: Willi Daum, Daniel Mandolini
Actors:
Anne-Rebekka Düsterhöft
Alfred Hartung
Daniel Mandolini
Sabine Rieck
Dana Schmidt
Wolfgang Stüßel
Program + Tickets
| Date/Time | Play | Rated | Venue | | Tickets |
| --- | --- | --- | --- | --- | --- |
Media response
"The Mask Beatbox Theatre KLASSE TOUR is great fun but also manages to address topics such as youth violence and drug abuse with due sincerity, yet without finger-wagging. The play ingeniously and without many words develops clearly recognisable typologies, that are independent of the actors behind the masks. There are only five actors, but between them and their moveable props they convincingly conjure up an entire school class, its teachers and the youth hostel staff. Definitely worth seeing."
Inforadio

"The soundtrack comes once again from Mando, the multiple German beatbox champion, who already created the musical landscape for the play's furious predecessor, KLASSE KLASSE. At the opposite end of the stage, Michael Ottopal acts as image DJ, providing the visual backdrop via a postcard carousel – as simple as it is effective. Between these two, the audio and the video performer, the play's non-verbal and yet so expressive action takes place. … The universally familiar school trip rituals of the 14 masked characters are vividly brought to life by only six actors. Director Michael Vogel and the Theater Strahl have landed another hit! Highly recommended for audiences from 13 to 113."
Zitty
Booking Enquiry
Or use our online booking form:
Cooperation with