främmt
Contemporary Drama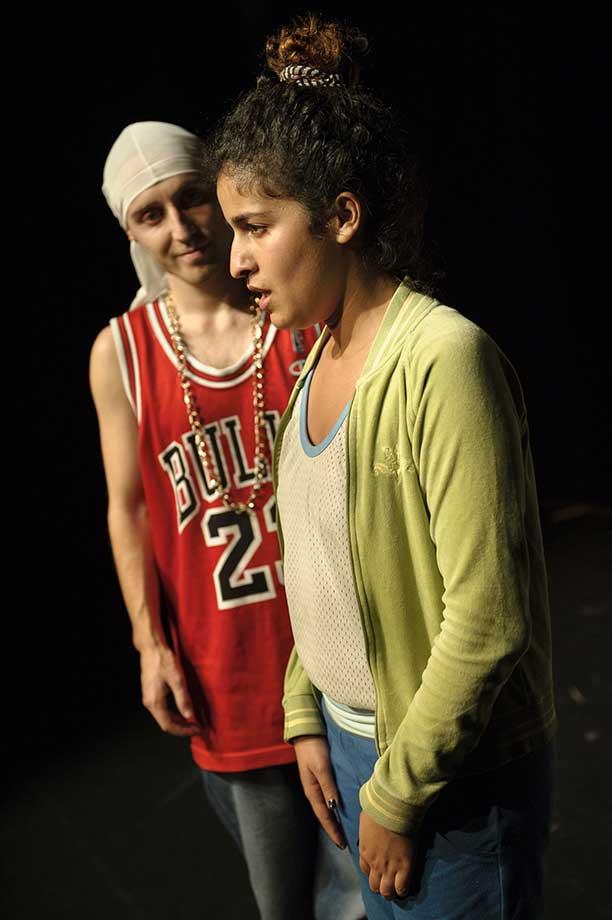 01 / 04
A story about prejudice, about the unfamiliar, and the right to a good life
Written and directed by Günter Jankowiak
Malla and Queenie are best friends, enjoying life's everyday adventures. Queenie's brother Petrik fancies Malla, and more might come of it…
Hotte, the eldest in the group of siblings, loves his job at an electronics store and admires his boss Achmed, an expert in German virtues. All of them seem to be doing fine with things just as they are.
But then a stranger appears. Someone who doesn't fit in and upsets the familiar order of things. From now on, nothing is as it probably never really was in the first place.
Informationen
Ensemble
Premiere: 11/2014
Text and Direction: Günter Jankowiak
Stage/Costume: Daniele Drobny
Music: Benedikt Eichhhorn
Light: Arthur Romanowski
Theatre Pedagogy: Charlotte Baumgart
Actors:
Adrienn Bazsó
Randolph Herbst
Franz Lenski
Oliver Moritz
Christine Smuda
Program + Tickets
| Date/Time | Play | Rated | Venue | | Tickets |
| --- | --- | --- | --- | --- | --- |
Media Response
Media Response
"Within the delightfully functional stage set, designed by Daniele Drobny, a scenario unfolds that could take place anywhere in Berlin. Every sentence, every gesture is just right. Nothing is modified or glossed over. … The constant changes in narrative perspective are at no point confusing, but only add to the charm. A joyously witty tale about prejudice, distrust, fear, friendship and love, delivered with so much simple virtuosity, it left us gasping."
Zitty

"The play tells a story of ordinary, everyday exclusion and ascription of identity. … The questions are raised in a playfully ironic way, but against a serious backdrop. Violent attacks on Roma, in Germany as elsewhere, gave the impetus for this rage-fuelled production."
Tagesspiegel
Booking Enquiry
For all booking enquiries please contact:
Theater Strahl Berlin gGmbH
Bettina Stäbert
Or use our online booking form:
Nominiert für