The Basement
Dance Theatre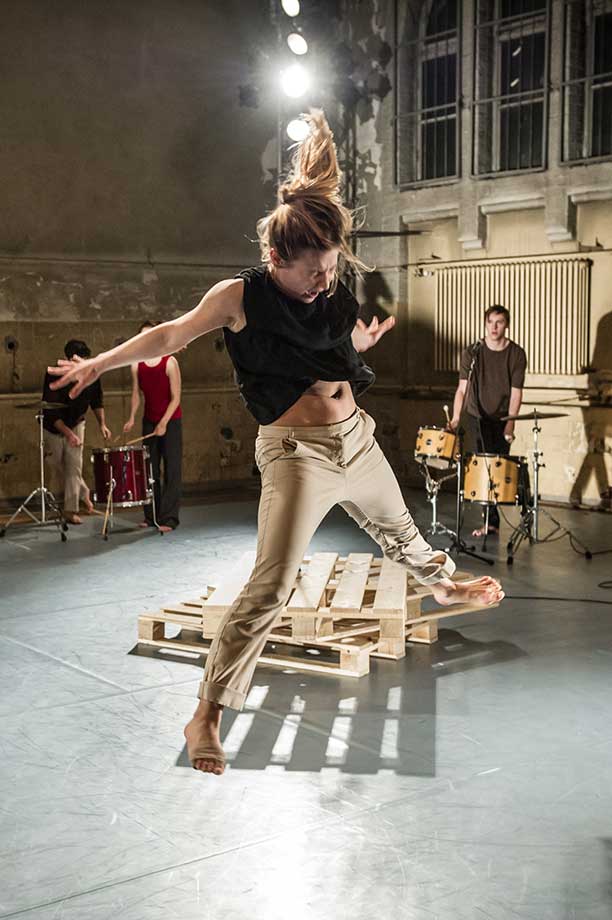 01 / 05
They live on the wrong side of the street, in the gutter of the world. It is dark there; locked doors, high walls and barricades. You must be hard – very hard! Extreme and without fear. Grit your teeth. Closeness only hurts. The blink of an eye opens up new possibilities. Human kindness penetrates the armour.
"Maybe we could be friends… maybe."
Informationen
Ensemble
Premiere: 02/2016
Coperation: De Dansers, Utrecht/NL
Choreography: Wies Merkx
Live Music: La Corneille, Utrecht/NL
Light: Werner Wallner
With:
Guy Corneille, Daan Crone (La Corneille)
Claire Lamothe
Enrico Paglialunga
Wannes De Porre
Josephine van Rheenen
Program + Tickets
| Date/Time | Play | Rated | Venue | | Tickets |
| --- | --- | --- | --- | --- | --- |
Media Response
Media Response
"Four dancers and two musicians from the indie rock band La Corneille fearlessly work the stage, skilfully switching between genres: contact improvisation, acrobatics and capoeira create the drive, across all levels of the set, enabling the cast to balance the difficult relationship between closeness and distance in powerfully fluid fashion. A strong piece of dance theatre that takes the emotional world of adolescents seriously and throws you with such delightful bluntness off kilter that you immediately crave more."
zitty

"Cautiously the dancers attempt to break out from the prison they have built for themselves. They seek the closeness and affection of the others. Crawling, arms formed into an O, craving a hug. Placing their head below the other's hand they steal a gentle caress. But these moments are rare and fleeting. Soon they beat each other again, the violence increasing as the music gets louder."
Tagesspiegel
On Tour
The Basement tourt vom 11. Oktober bis 28. November 2017 zu 10 Spielstätten in den Niederlanden, Belgien und Norwegen.
Booking Enquiry
For all booking enquiries please contact:
Theater Strahl Berlin gGmbH
Eric Noelte
Or use our online booking form:
Kooperation mit
Unterstützt von
Gefördert durch